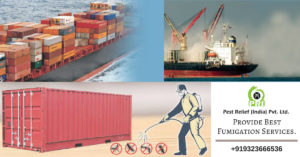 At pest relief India, we provide professionals technicians for ship fumigations services which may be a requirement for importing and exporting goods. Many years of experience and well-trained technicians. You don't have to look any further because we're the biggest fumigation services in India.
It is necessary to have a whole ship clean and pest free to make sure that the product which is stored in the ship is not infested and not at the risk of contaminating.
Ship fumigation includes the treatment of the grasp of a ship (whether the vessel is empty or full of goods and commodities) or to take care of some certain areas within the superstructure of the vessel itself.
With export, the grasp of the ship has to be examined for cleanliness and inspect activity before the loading. If any pest undertaking is found. Fumigation treatment may be needed.
With imports, the container may have been infected before the loading offshore, the container (as well as the ship itself) must be disease and pest-free. Pest relief India provides you the best fumigation services in all over India. We have the best technicians with many years of experience they perform fumigation in a proper manner, which is required in every fumigation services. We deal with any fumigation needs that you may have from store product from store pests in grains to shipping containers. We protect your shipping containers from unwanted pests!